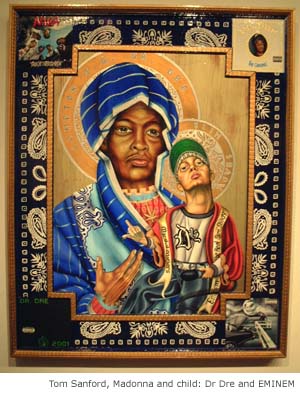 'Madonna and child: Dr Dre and EMINEM' is a luscious painting in gold and deep blues. As precious as any eastern European religious icon and painted with as much skill and meticulous care, it is a highlight from Eyesaw's most recent exhibition. This iconic painting of rappers is by Brooklyn N.Y. based artist, Tom Sanford. His work not only immortalizes these rappers as icons but goes to the core of racial stereotyping, 'black faces are for rap stars but not religious iconography'. Sanford's stunning images of rappers, surrounded by ornate gold frames and Roman lettering, reverse this clich? and sting with their unfamiliarity.

Eyesaw is a collective of artists who work to promote and exhibit art in Tokyo. With a strong interest in Multi-media, Eyesaw has organized 12 art events. Eyesaw's most recent outing of artists is another successful adventure. With a painting and sculpture component of 13 artists and another 8 or so doing multi-media works, Eyesaw has drawn together a diverse group of artists from Tokyo and around the world.

In contrast to the controlled austerity of Stanford's iconic paintings is the work of local Tokyo artist, AKIRA. His large and expressive work 'Point of no return' is a textually rich and freely painted self-portrait.

A humorous yet poetic odyssey, seen through the eyes of garden bugs, is the subject of Martin Bromirski's quirky series 'One day in the garden'. Bromirski's mixed media work incorporates various 'washi' (papers) joined to create a sensuous surface on which he paints, draws and writes. It is an intricate and captivating work.

A dress and hat made entirely of ginko leaves by UK artist Lois Rowe was another delicate work exploring the natural world. Rowe's piece seemed both to have been made and worn by fairy-like creatures from a fantasy world.

Shoji Asaba's video installation explores a theme pursued by a number of contemporary video artists, surveillance. However, Asaba's installation differs by its novel use of time lapse and a sequence of tracking cameras. This allows us to look back, across multiple screens, at our feet as we entered the space. Like a movie flash back, we are reminded of our immediate past.

The top floor of the three floors of exhibition space is given solely to the tattoo artist Permanent Mark. His paintings, woodcarvings and photography are a nostalgic mix of cute and tough. Fighting slogans, 'he who dares wins' and Lollipop gals, recall WWII marines and an era when women only sat on the back of motorcycles. It seems that what's 'in' on the skin is retro and macho.

Each Eyesaw exhibition also includes a multi-media event and party. This event included a range of audiovisuals artists including sound and visuals by Masa Kobayashi and Ryo Inoue, as well as Australian artists Aylie McDowall's animations and Lisa Hilli's slides. The next Eyesaw event happens on September 24 Ð 29 at Galerie Le Deco Shibuya.