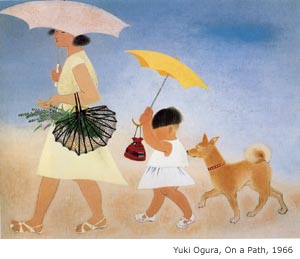 "Something bright, warm and funÉthe joy of being alive." This was the feeling Yuki Ogura wanted to depict in her 1966 painting, "On a Path". However, the warmth and humanity in this and her work, which makes it endearing to audiences also distracts from the important part her art played in finding a new path for Japanese art in the twentieth century. An extensive exhibition of her work at the Museum of Modern Art captures Yuki Oguras artistic achievement from a long and productive career. Ogura transformed both subject and composition in Nihonga (Japanese traditional style painting) while maintaining a strong sense of tradition in method and philosophy.

Women, children, vases and flowers form the core subjects of Yuki Ogura. Born in 1895 she began exhibiting her painting in 1929/. Ogura exhibited her first work with the Inten (the official Japanese traditional art academy) in 1926. Before this, she had received extensive training in painting and poetry at a womens High School in Nara. She had also begun a lifelong association with master artist Yukihiko Yasuda. Painting right up to the year of her death, at age 105, Oguras career has spanned an epoch of rapid change.

"Women bathing", painted by Ogura in 1938, was a pivotal work. In size, composition and technique it reveals a marked departure from the traditional style of Japanese painting. In this work, Ogura has abandoned many rules and formulas of traditional painting in favor of direct observation and a more scientific approach. This is reflected in her depiction of the bath tiles through the translucent green water. The tile joint-lines wave and curve through the optical effects of the waters refractive lens. Ogura draws the naked young women luxuriating in the warm bath in a gently abstracted simplified line and form. Yet, in contrast to their bodies, their dark black hair is delicately detailed. While this work departs from many traditions it does not abandon al elements of Nihonga style.

Her painting post war reveals another turn in style towards modernism. Three works, "Young Woman", 1951, "Portrait of Mrs. O" 1953 and "Ko-chan Resting", 1960 depict this change but also the dramatic changes in societal values that swept Japanese society. The strong gaze of the paintings women reflect changes in social status that had began during the war years. Oguras post war compositions have dramatic diagonals with bold colors and patterns. Many of these new elements in her art can be attributed to her study and observation of the work of the European modernist painters Henri Matisse and Pablo Picasso.

Yuki Ogura has a special talent for painting camellias. She painted many works depicting vases of flowers and blossoms, but her depictions of camellias seem particularly sensitive. The strong solid color and patterns in the background to these still lives is a reminder of her modernist ideas and the strong influence of Matisse on her work.

Yuki Ogura is among a small group of Japanese artists that helped maintain the Nihonga tradition of painting through the modernization of Japan. She did this by being both innovator and conservator. Her modern styled compositions and subjects at the end of the second world war saved Nihonga style art from being discarded along with a range of other 'old world traditions associated with a defeated culture. However, Ogura maintained many of the traditional techniques of paper, pigment and free flowing line. As a woman artist, she also marks a departure from tradition. She represented as well as depicted a new era for Japanese women, which is still slowly unfolding.